For The Cause: Using Your Photography For A Purpose
Left: This image of native plant restoration was shot during a five-year rehab project on a local creek for Friends of Deer Creek. It has been used to apply for grants and to attract local volunteers to continue the project. Right: This image of collecting water quality data has been used by the Sierra Streams Institute to help apply for grant funding for ongoing restoration projects. Photos © Josh Miller Photography
I just read a great article by Josh Miller at Shutterbug.com.  It explains how photographers can help small organizations by using their photography for a cause. At RTP, we are a small organization that helps a diverse audience "transform their lives through the power of photography."  We are looking for some volunteer photographers in the New York City area to help spend a few hours a week or a month to make a difference in their lives and yours.  If you are interested, please click on this link for more information:
Thanks Josh and Shutterbug for a great article!
Jackie Augustine
President, Board of Directors
Rehabilitation Through Photography
By Josh Miller – Posted May 21, 2012 – Shutterbug.com
Since the development of photography in the early 1800s, there has always been a strong tradition of photographers using their work to promote conservation and social justice issues. One need only to look at the development of the National Park System in the United States to see the impact early photographers had on conservation. William Henry Jackson, with his 1871 Yellowstone photographs, helped push through legislation that established Yellowstone as the world's first National Park. Another well-known example of a conservationist photographer was Ansel Adams, whose tireless efforts both as a photographer and as a 37-year member of the Sierra Club's Board of Directors led to the establishment of Kings Canyon National Park in 1940.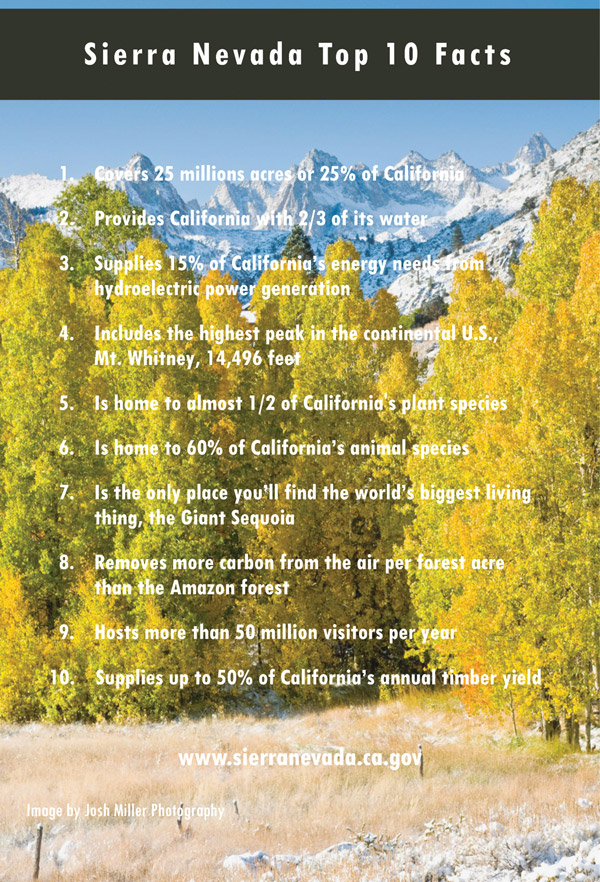 This image has been used by the Sierra Nevada Conservancy several times to promote their conservation efforts throughout the Sierras. This version was created as a magnet and distributed throughout the California Legislature before an important conservation vote.
© Josh Miller Photography
The International League of Conservation Photographers (iLCP) was established in 2003 by Cristina Mittermeier in an effort to better connect photographers with each other and with environmental and cultural issues. The iLCP organizes photo shoots around the world that bring together groups of photographers in "Rapid Assessment Visual Expeditions" or "RAVEs" to photograph specific locations or cultures under threat. These RAVEs are a way to quickly create bodies of work that can be used by local grassroots and nonprofit organizations to promote immediate, positive changes. While the iLCP helps to organize the RAVEs, their goal is to make the resulting images available to the appropriate organizations in order to bring visual awareness to their cause.
Read more:
http://www.shutterbug.com/content/cause-using-your-photography-purpose